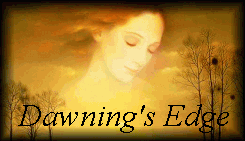 As you enter into the this vast new world at the edge of dawn you begin to feel yourself changing, taking on new shape and thinking in new ways. You have become a part of Dawning's Edge.
[My Homepage | My Awards| My Favorite Links| Avalon Adventure]
Don't forget to visit the very wonderful Lissa Explains It All for great webpage tips! All graphics made by me or from free graphics archives. The background on the member's page is made byy a very good real life friend of mine. All other graphics made be me except our awards which are all linked to the site that made them.